The Center for the Study of Blockchain and Financial Technology at Morgan State University is pleased to offer competitive seed grants to faculty to encourage research and academic writing about blockchain technology, crypto-assets, digital payments, and related topics.
The interdisciplinary Center for the Study of Blockchain and Financial Technology provides funding to faculty and graduate students to explore the tools and techniques necessary to assess and develop scalable, cost-effective, secure, and compliant solutions.
The Center funds research in a wide variety of disciplines including, but not limited to, the arts, law, sociology, accounting, computing, economics, engineering, entrepreneurship, finance, marketing, supply chain, etc.
Scholarship in the technical, economic, and regulatory aspects of affected industries such as the financial and banking sector, logistics sector, and government sector are being funded. For example, The Center has funded research on blockchain-based systems, ICOs, IEOs, IFOs, and global payment systems. Research on how to leverage the technology and how to apply these new tools and techniques to vast amounts of financial data has the potential to profoundly impact the financial markets.
The Center's research topics are driven by the faculty's intellectual curiosity as well as business and industry needs. Potential research areas of interest for the Center include:
Sciences Related
Data Science
Algorithmic Protocols
Network Analysis
Software Engineering
Business Related
Digital Derivatives
Digital Market Structure and Liquidity
Market Liquidity
Game Theory
Adoption
Regulatory Impact
Interdisciplinary
Decentralization
Distributed Systems
Incentive Structures
UBRI is interested in the following research topics. The research statements below are a representative sampling of real-world problems that are top of mind for Ripple and the ILP/XRP ledger teams, as well as for the broader community working in blockchain, cryptocurrency and global digital payments. This list of topics is not intended to be prescriptive, but can be used as a resource for universities as they develop their own research strategies within the framework of the University Blockchain Research Initiative and beyond. This list is preliminary; the intent is to use it as a working document that can be modified based on university partner feedback and the introduction of new topics, both by Ripple and by university faculty and students. This is not a comprehensive list.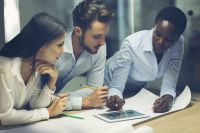 The Center encourages research proposals from participating HBCUs. Proposals will be reviewed on an on-going basis. Guidelines for Proposals.