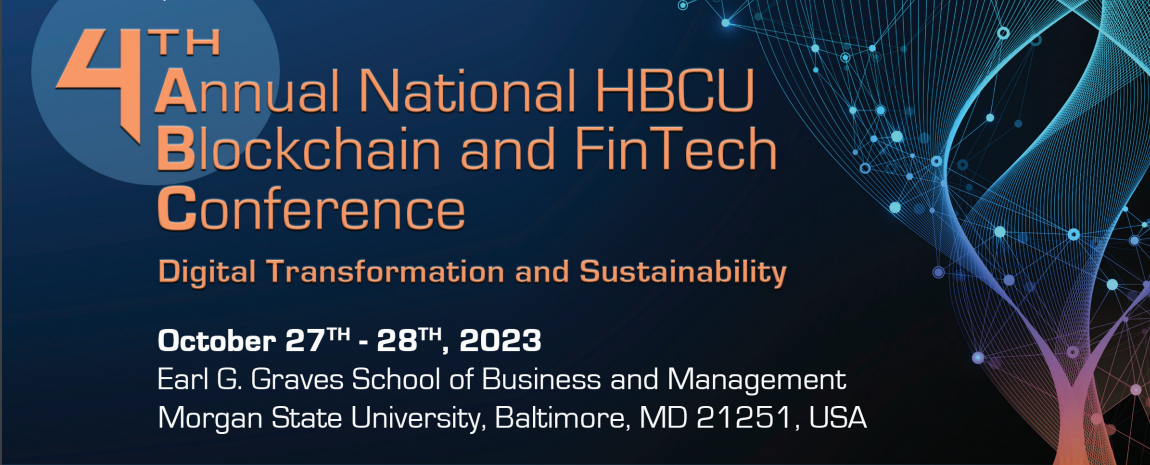 We are pleased to announce the 

4th

 

National

 

Blockchain

 and 

FinTech

 

Conference

, scheduled for October 27 & 28, 2023, in Baltimore, Maryland. The 

conference

 brings together academics, industry leaders, and experts to discuss the latest developments and trends in the 

blockchain

 and 

FinTech

 industries.
This year's

conference

 will focus on the critical role of technology in advancing environmental sustainability and the theme of "Digital Transformation and Sustainability" will explore and highlight their potential to foster a more sustainable world. Join us as we discuss innovative research and novel use cases uncovering how these technologies can propel us toward a more sustainable future.
In addition to informative sessions, the 

conference

 will feature several technical workshops where attendees will gain hands-on experience and knowledge. These workshops will be led by experts in the field and will provide attendees with practical skills and insights.
We are also excited to announce that this year's closing reception will take place at the world-renowned 

National

 Aquarium in Baltimore. This unique and beautiful venue will provide a memorable end to the 

conference

 and offer networking opportunities and socializing with other attendees.
"Whether they're finned or scaled, deep-sea swimmers or treetop dwellers, each one of the thousands of animals at the 

National

 Aquarium has a unique story to tell." View them here… 

Conference

 participants and their families will have access to all four levels of The 

National

 Aquarium!

Don't miss this opportunity to be a part of the premier 

blockchain

 and 

FinTech

 event of the year! We look forward to seeing you in Baltimore.
Together, let's build a sustainable future powered by 

blockchain

 technology.
Conference Sponsors and Contributors