You don't want to miss this!
DEMYSTIFYING THE METAVERSE
The National FinTech Center at Morgan State University and The Hyperledger Foundation invite HBCU faculty, students, and alumni to attend a four-part webinar series this Summer and Fall. The first event titled The Path to the Metaverse (Visions, History, Orientation & Components) will be a virtual panel discussion on Thursday, July 28, 2022, from 12:00-1:00 pm ET.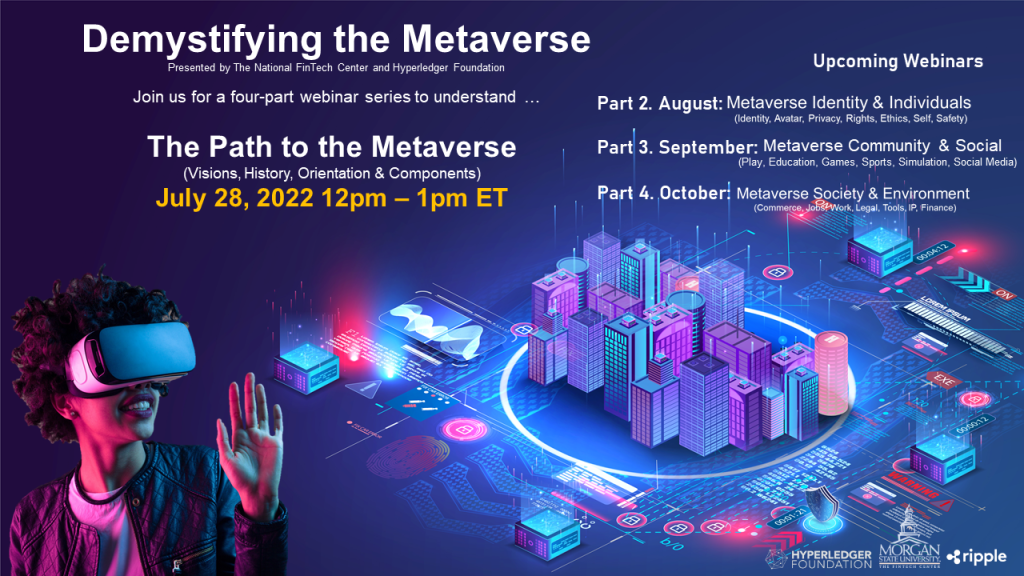 The panel will feature members of The Hyperledger Foundation Community. You don't want to miss this panel discussion and interactive Q& A session following the panel.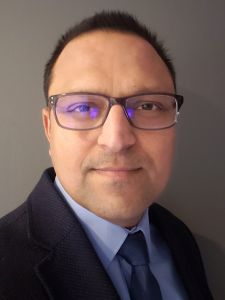 Sandy Aggarwal is a technology leader with  expertise in systems development, enterprise architecture & systems integration, and product/program management.   
He has many years of experience in rolling out bank technology platforms such as Trading systems, Reference Data Management, Customer/Regulatory Reporting, Cash Management and Payments.
Sandy is also actively involved in the FinTech and Blockchain space via open source community projects with Hyperledger in the Financial Services and Gaming SIGs and is currently working on developing solutions to reduce DLT friction in Fintech and games.
Sandy is currently working at Mizuho Americas as SVP – Technology & Architecture. You can get in touch with him via LinkedIn or Twitter.
LinkedIn: https://www.linkedin.com/in/sandyaggarwal/
Twitter:  https://twitter.com/sandywalls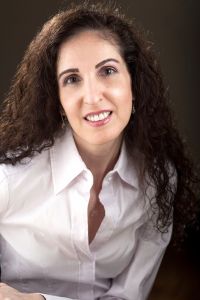 Dr. Merav Ozair is a global leading expert on Blockchain and Cryptocurrency, with a background of a data scientist and a quant strategist. She has in-depth knowledge and experience in global financial markets and its market microstructure. Currently, Dr. Ozair applies her unique expertise to researching and investigating distributed ledger technology (DLT) and Blockchain ecosystem, digital assets, crypto markets and specifically, decentralized finance (DeFi) space and non-fungible tokens (NFTs). She has been developing innovative methodologies to evaluate digital assets and crypto markets, including cryptocurrency indexes, valuation and risk metrics, ratings and tokenized products; and of particular focus – researching various DLT and DeFi solutions, including decentralized identity, and decentralized trust privacy and security – mainly through consensus mechanism protocols and governance (including decentralized autonomous organizations (DAOs)) of the platform/application.
Dr. Ozair is a FinTech professor at Rutgers Business School (RBS).  At RBS she has developed and teaches courses on blockchain and digital assets for both undergrads and graduate level; and is the Research Director of RBS Blockchain Hub. She serves as an Advisor and Researcher at the Rutgers Blockchain and FinTech Collaboratory; and is an Affiliated professor at Rutgers Law School, focusing on DeFi.
She has been frequently interviewed on blockchain, NFTs and DeFi space by world-wide media, such as Bloomberg, BBC, New York Times, Forbes, The Hindu, New York Post, The Washington Post, USA Today , Fox 5 New York, Good Morning America (ABC channel), yahoo!,  The Motley Fool, RIA Intel, NJ Business Beat, Jersey Matters, KCUR.
Dr. Ozair is the Editor-in-Chief of the World Scientific Series in FinTech at World Scientific Publishing, and is writing a series of books on the Metaverse, Web3, Non-Fungible Tokens (NFTs), DOAs and DeFi.
She is a member of Academic Advisory Board at INATBA (International Association for Trusted Blockchain Applications) and serves on the Advisory Board of EQM Indexes – Blockchain Index Committee; she holds a PhD from Stern Business School at NYU.
AWARDS AND RECOGNITIONS
"Dr. Ozair is considered one of the nation's leading experts on Cryptocurrency and Blockchain," the CFA Institute
"Dr. Ozair is one of the World's Foremost Authorities on NFTs," NPR
Dr. Merav Ozair Website: https://www.doctorblockchain.io/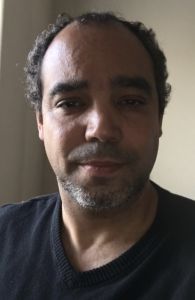 Rafael Brown is a game designer, game developer, XR technologist, and studio head. He is a 25 year veteran of the game industry, who traces his roots to Looking Glass and seminal FPS, Thief. He saw this generation of virtual reality start on John Carmack's desk 11 years ago while working on the open world FPS Rage. Rafael loves building virtual worlds. He has been dreaming of the metaverse since watching Tron in the theater as a kid and reading Neuromancer a couple years later. During the pandemic, he founded Symbol Zero, which builds games, virtual worlds, virtual concerts, and cloud platforms. Symbol Zero is Roblox's virtual concert partner having built the Lil Nas X virtual concert experience, the second largest virtual concert in history, and many other concerts for Sony Music and Warner Music in Roblox.
The Roblox Lil Nas X Virtual Concert Experience
https://www.youtube.com/watch?v=f12ukZuUwWI
The Roblox Twenty One Pilots Virtual Concert Experience
https://www.youtube.com/watch?v=0fAhhoXK12o
Is blockchain technology ready for the gaming industry?
https://www.youtube.com/watch?v=WGJP9J8aPbw
Gaming in the Metaverse: Rafael Brown Shares Vision for the Future
http://test.totheverge.com/gaming-in-the-metaverse-rafael-brown-shares-vision-for-the-future/
ENTER THE METAVERSE!
You will receive a unique link to join the event. There is no charge, but advance registration is required.