National Center for the Study of
Blockchain and Financial Technology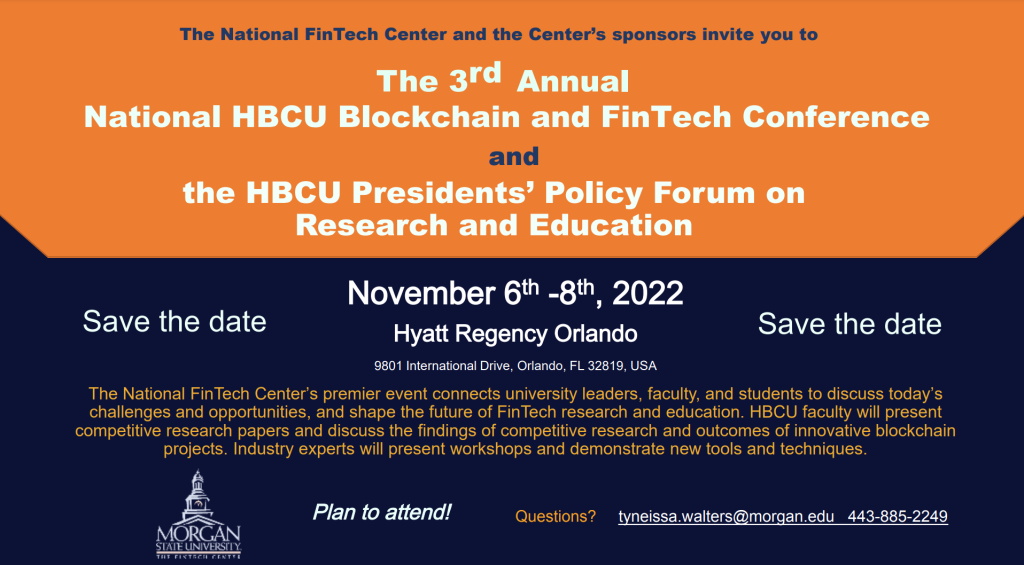 Research Proposals
Completed Paper Deadline 08/01/2022
The National FinTech Center at Morgan is a Center of Excellence and the hub of the HBCU Blockchain and FinTech Network that actively engages faculty and students at all HBCUs for research, curriculum, and education in Blockchain and FinTech. We support faculty and students at all HBCUs to develop their skills in various areas of FinTech including blockchain, cryptocurrencies, crypto economics, cybersecurity, payment systems, entrepreneurship, and related areas.
Developments in disruptive technologies such as Blockchain move fast.  Universities need to stay engaged by conducting breakthrough research to advance knowledge in this new technology and by updating  their curricula to prepare students for the rapid market changes.
The Center was established to provide an environment that promotes learning and in-depth understanding of blockchain technology and its impact on finance, business, industry, and government.
The Center offers programs, workshops, conferences, and seminars which bring together academic researchers, practitioners, corporate leaders, and policymakers.
In February 2019, Morgan State University received a multi-year grant from Ripple, a leading Silicon Valley technology firm. Morgan's Center for the Study of Blockchain and Financial Technology (the FinTech Center) joins the global network of institutions known as  Ripple's University Blockchain Research Initiative (UBRI).  This is a select group of universities engaged in a worldwide effort to develop specialized curriculum, accelerate academic research, and innovation in blockchain technology, cryptocurrency, and FinTech security.