Decentralization and Privacy on Blockchain: the Basics
September 7 @ 8:00 am

-

9:00 am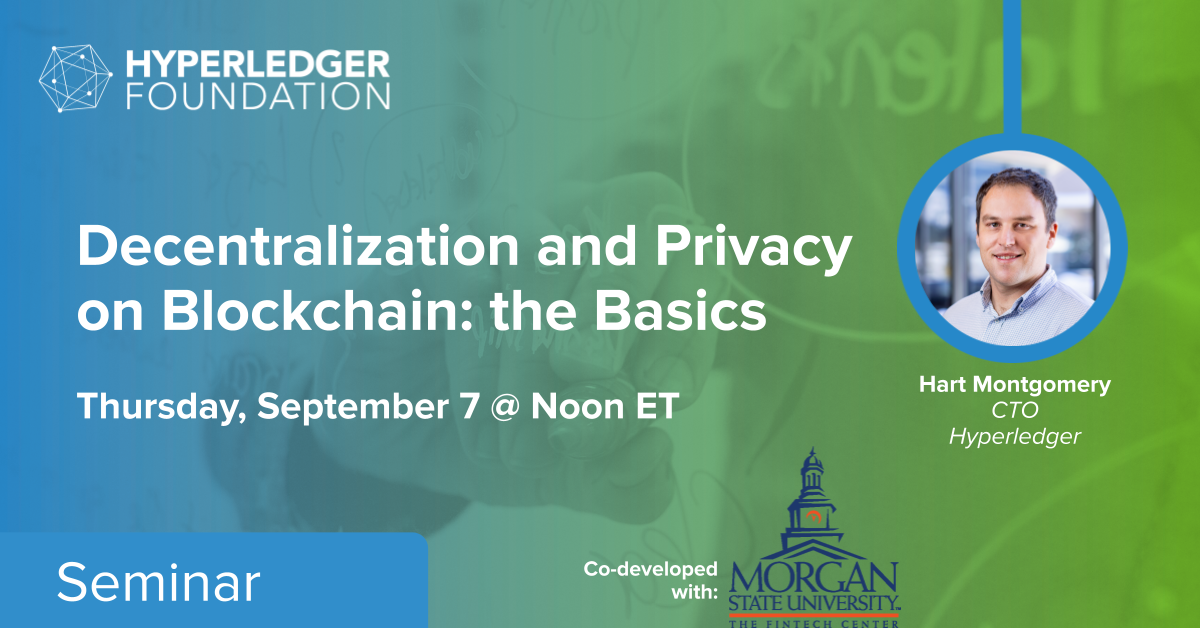 Title: Decentralization and Privacy on Blockchain: the Basics
When: Thursday, September 7, 2023 – 12Noon ET
Presenter:
Hart Montgomery, CTO, Hyperledger Foundation
Seminar Goals:
How decentralization is at the core of blockchain, what it means for security, the blockchain trilemma, and how to make sure you "get decentralization right" in blockchain.
Why privacy and confidentiality are necessary on a blockchain, what are some techniques we can use to achieve privacy and confidentiality, and how we should think about them.
Seminar Recording:
Seminar Presentation Deck:
Quick Links:
Morgan State Fintech Center: https://fintech.morgan.edu/
Hyperledger Wiki:  https://wiki.hyperledger.org/
Thanks to Morgan State Fintech Center for organizing these Seminars.
Hyperledger Code of Conduct
https://toc.hyperledger.org/governing-documents/code-of-conduct.html
To find out more about Hyperledger, please check out our
Website: https://www.hyperledger.org/
Wiki: https://wiki.hyperledger.org/
GitHub: https://github.com/hyperledger
YouTube: https://www.youtube.com/@Hyperledger
Discord: https://discord.gg/hyperledger
#morgan-state-seminars: https://discord.com/channels/905194001349627914/1077628668794380369