Careers in DeFi
April 7 @ 12:00 pm

-

1:00 pm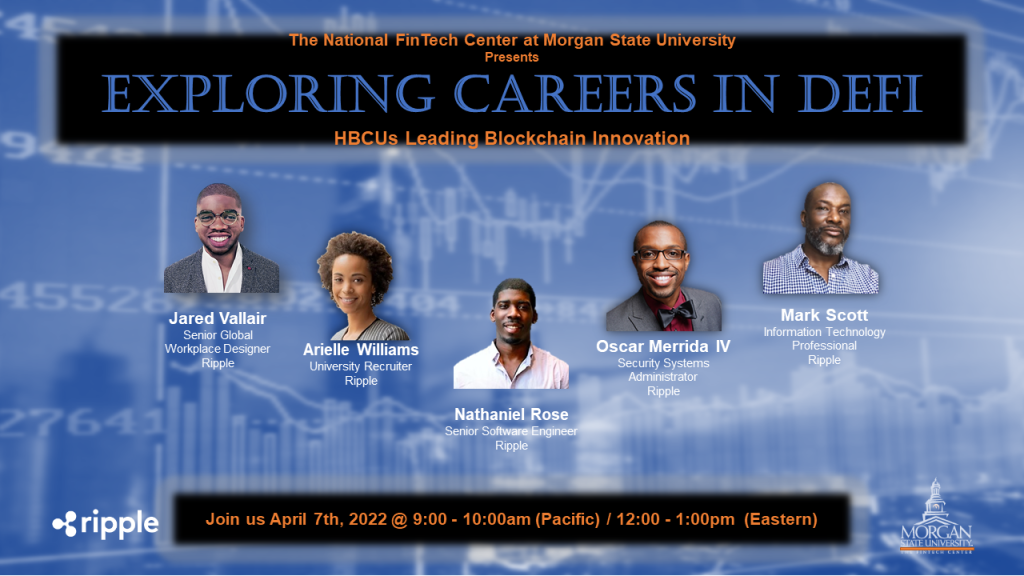 Meet the Panel:
Moderator – Nate Rose
Nathaniel Rose is Senior Software Engineer at Ripple on the Data Platform Team, and co-lead of the Black at Ripple Employee Resource Group community. He is a former ex-Microsoft engineer and Neurotechnology Researcher who focused on gaze selection and brain-machine interfaces. Nathaniel advocates for education equity – having directed a National Society of Black Engineers Chapter for over 5 years and Co-Founding the Bay Area Chapter to aid students with STEM skills giving them the edge to pursue future life endeavors.
Panel:
Arielle Williams:
Arielle Williams is a University Recruiter, based in the SF Bay Area. She's very passionate about diversity, equity & inclusion, and connecting talented students with great opportunities. Arielle has worked in talent acquisition for the past 5 years and university recruiting is very exciting to her because she gets to help build the next generation of future leaders!
Jared Vallair:
Jared received his undergrad degree from Tufts University in MA, also attending and completing Harvard's Graduate School of Design summer program for Architecture during his education in Boston. He then attended California College of the Arts in San Francisco, receiving his Master of Architecture. During his study he also engaged in various design and build-related roles. Currently, he is the Senior Global Workplace Designer for Ripple, where he leads the design, project management and construction for all office builds. He has collectively and collaboratively established the designs for offices in San Francisco, New York, London & Singapore.
Oscar Merrida:
Oscar Merrida IV is a technology professional originally from Berkeley California.  He completed his undergraduate degree in business at Howard University.  After a brief period in the hospitality industry, Oscar knew he needed to try something new. He started his physical security technology career and obtained his masters degree at the George Washington University.  Oscar is driven by solving business challenges with technology.
Oscar's first introduction to blockchain technology came during his master's degree.  He and his classmates studied how the technology could have alternative uses to improve record management.   Years later when the opportunity to work at Ripple became a reality it made sense to join the company.  Oscar gets a first hand seat to blockchain technology and the crypto market as a Security Systems Administrator for the Global Security team.  In his role he helps secure the facilities and people he works with on a daily basis.
Mark Scott:
Mark is an Information Technology professional with over 20 years of experience in data management. Throughout the years he has been fortunate to have had multiple roles ranging from Developer, Engineer, Analyst to Trusted Advisor that give him a unique perspective on enterprise information management and architecture. This experience has made Mark a trusted advisor for his clients and a thought leader in the field. His wide breadth of experience allows him to educate both technology and business leaders on how to get the best value from their most coveted asset – data.  Lastly, he is spearheading efforts in his local community of Brooklyn NY to introduce cryptocurrencies, system engineering, data management, and data analysis training to the underserved workforce in the form of courses in a continuing education format.